Getting to the heart of why people donate
When designing a new website for the Archdiocese of Toronto's annual ShareLife charitable giving campaign, our strategy was simple—make it easy, and make it matter.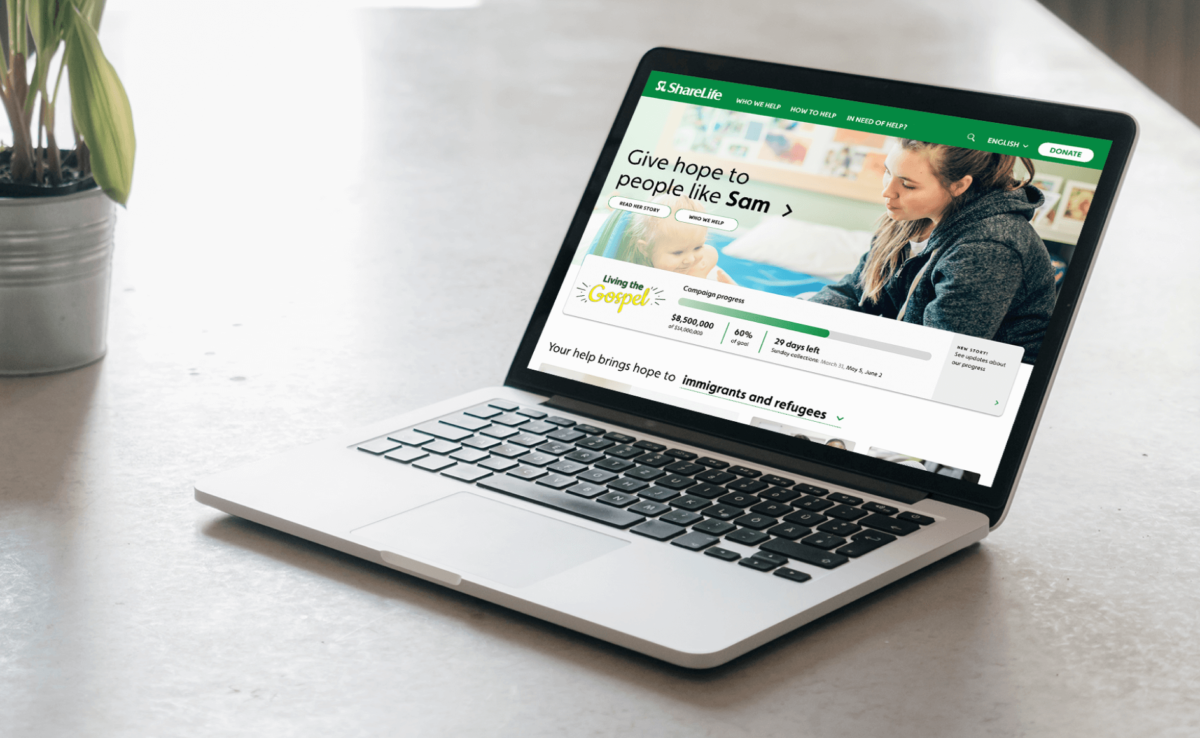 Challenge
With so many charitable causes, how do you help convince donors that yours has positive community impact?
Solution
By sharing real stories of impact and simplifying the donation process, we helped donors understand why they should give—and made it easy to do so.
Impact
The new website launched in July 2020. In under two months, the campaign reached $8.4 million—61% of its goal.
The context
The annual charitable fundraising appeal of the Archdiocese of Toronto, ShareLife supports numerous agencies in the region that carry out the mission work of the Church. Its efforts serve marginalized communities, from immigrants and refugees to seniors and people with special needs. The ShareLife campaign relies heavily on Sunday parish collections, with funds collected in cash.
Together with ShareLife's team, we wanted to:
Create a public-facing website to boost online donations.
Gain insights into why people donate, and how.
Make it easier for staff and parishes to promote the campaign.
Understanding why people give
According to a national charitable giving study, we learned that 90% of Canadians give because of compassion towards those in need, compared to just 33% who give for religious beliefs or obligation. To better understand the motivations specific to ShareLife parishioners, we deployed an online survey. With above-average response rates, the survey uncovered a few key insights:
Awareness of the causes or the agencies ShareLife supports was low.
Most donations are made regularly in cash, at the parish.
Online security is a huge concern around online donations.
Donors are motivated by specific causes and compassion for those in need.
We also conducted interviews with staff, volunteers and clergy members to hear about their experiences when promoting the campaign. We heard that:
Parishes and volunteers need resources to promote the campaign.
Campaign progress updates are tedious but necessary.
Real stories of impact will help donors understand the causes they're directly contributing to.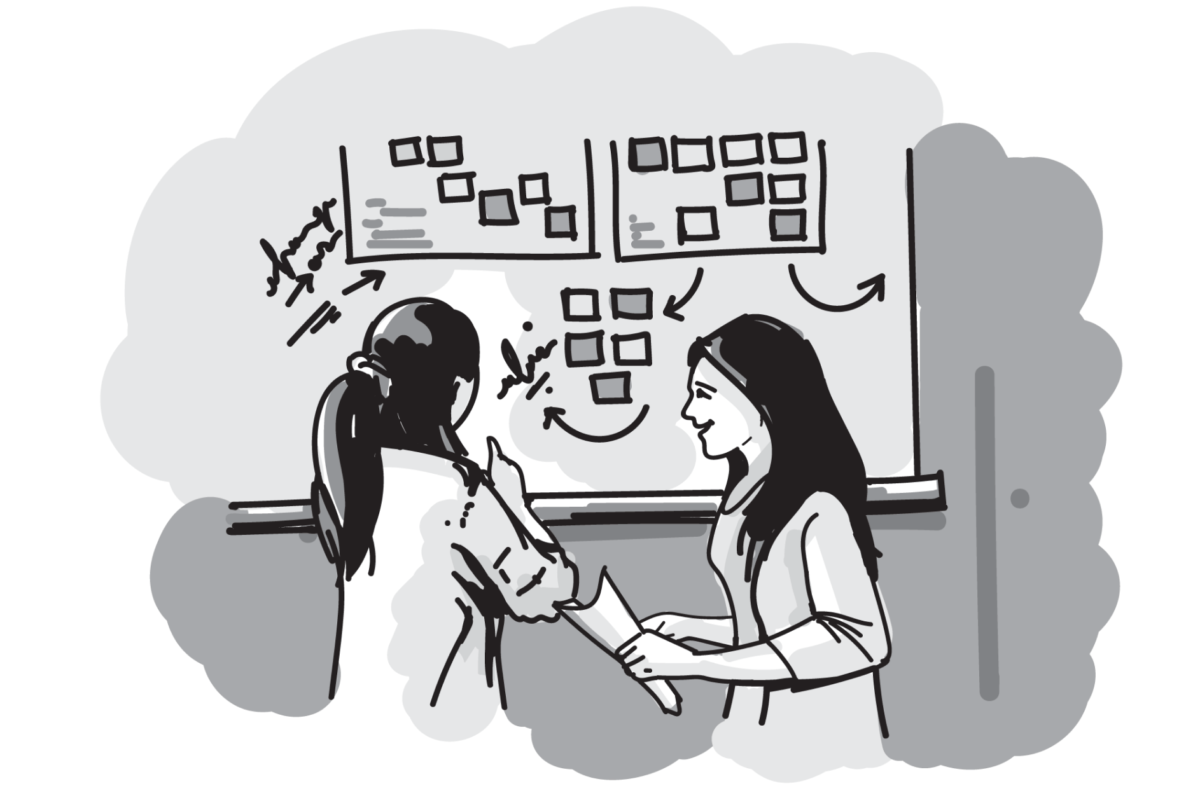 Exploring best practices
We delved deep into leading charitable and political fundraising websites to review and understand what made them successful. Our review included examples of case studies, donation progress updates, donation platforms, thank-you emails and even which donation amounts appeared most frequently.
We uncovered that allowing people to choose their cause and focus their donation personalized the experience and made it more compelling to give.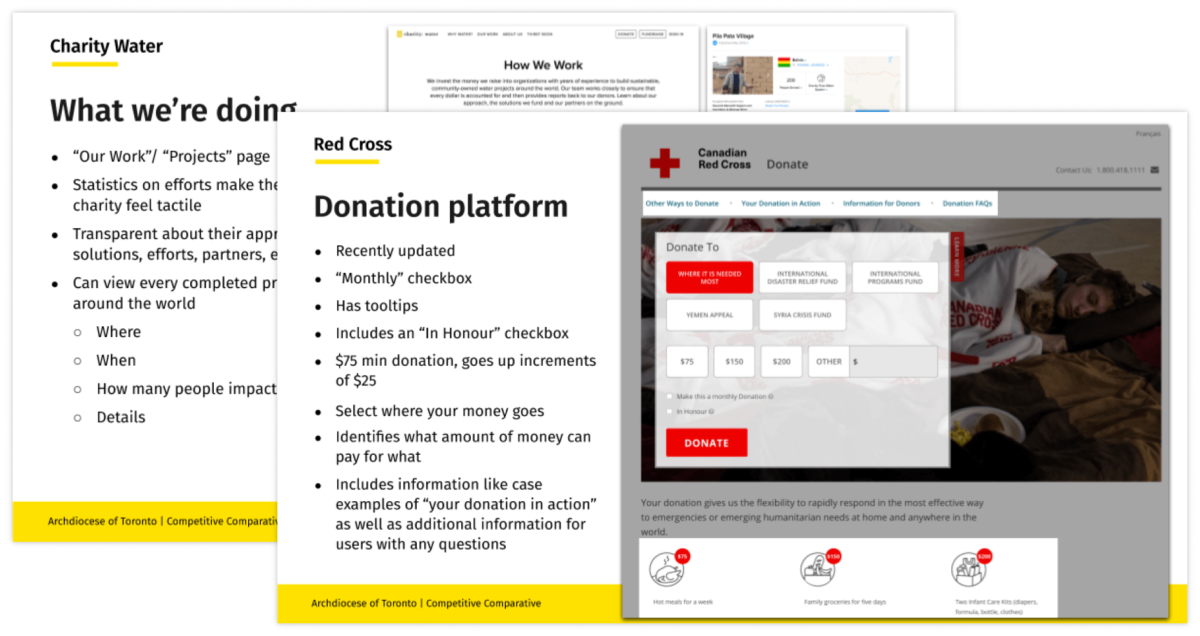 Navigation, architecture and wireframes
Informed by the insights generated by parishioners, staff, volunteers and clergy, we explored a few options to make the user experience as simple and intuitive as possible. By creating low-fidelity models of a few different approaches, our clients were easily able to visualize the site and provide tangible feedback. This approach enhanced collaboration and minimized costly changes further along.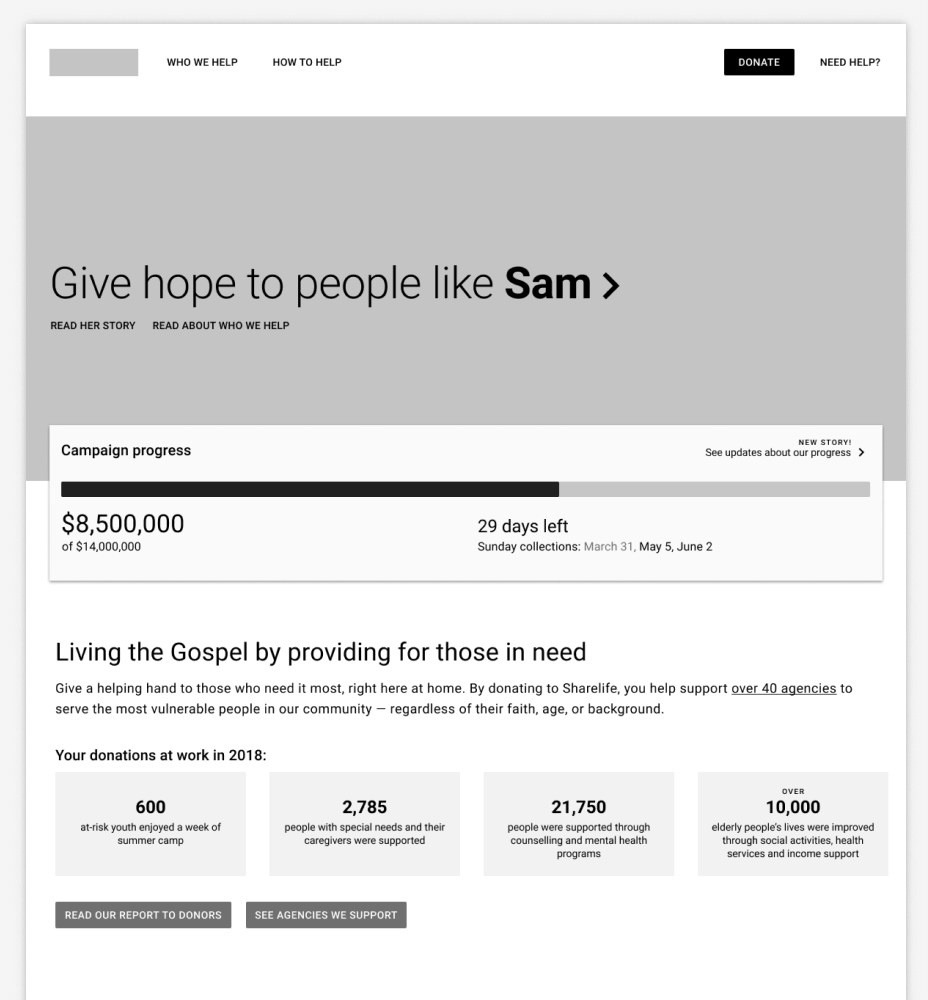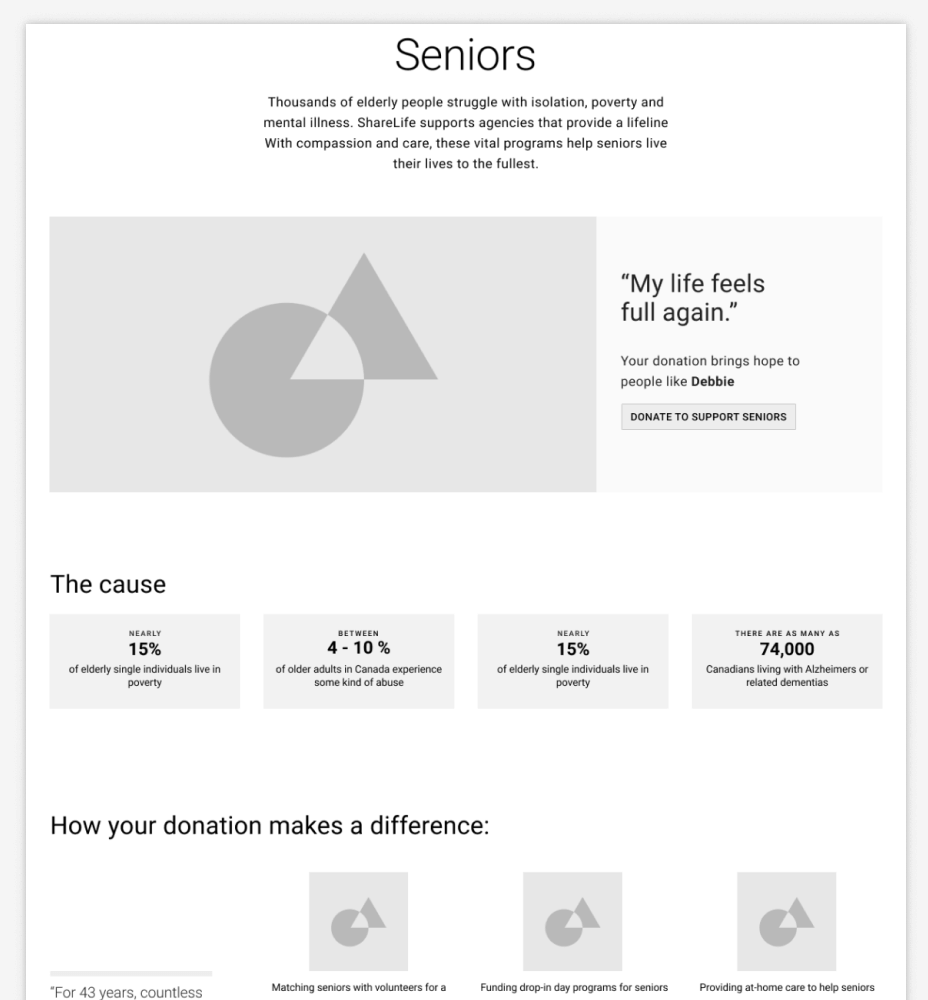 Speaking to hearts, not just to wallets
We used the research uncovered to better understand what motivates people to give, and applied it to design and content strategy. The new site contains:
Facts and figures demonstrating proven impact.
A campaign progress bar to track results of collective efforts.
Specific examples of where money goes to support communities.
Dedicated pages for each audience.
Authentic photography of real people helped by ShareLife agencies.
For each audience served, we also recommended gathering inspiring personal stories to bring issues and causes to life. Real names and faces now demonstrate positive impact and testify to how donations change lives.