In the digital shift, who's left behind?
In collaboration with Canadian Cancer Society
Helping the Canadian Cancer Society adapt to the digital shift with a content strategy for all.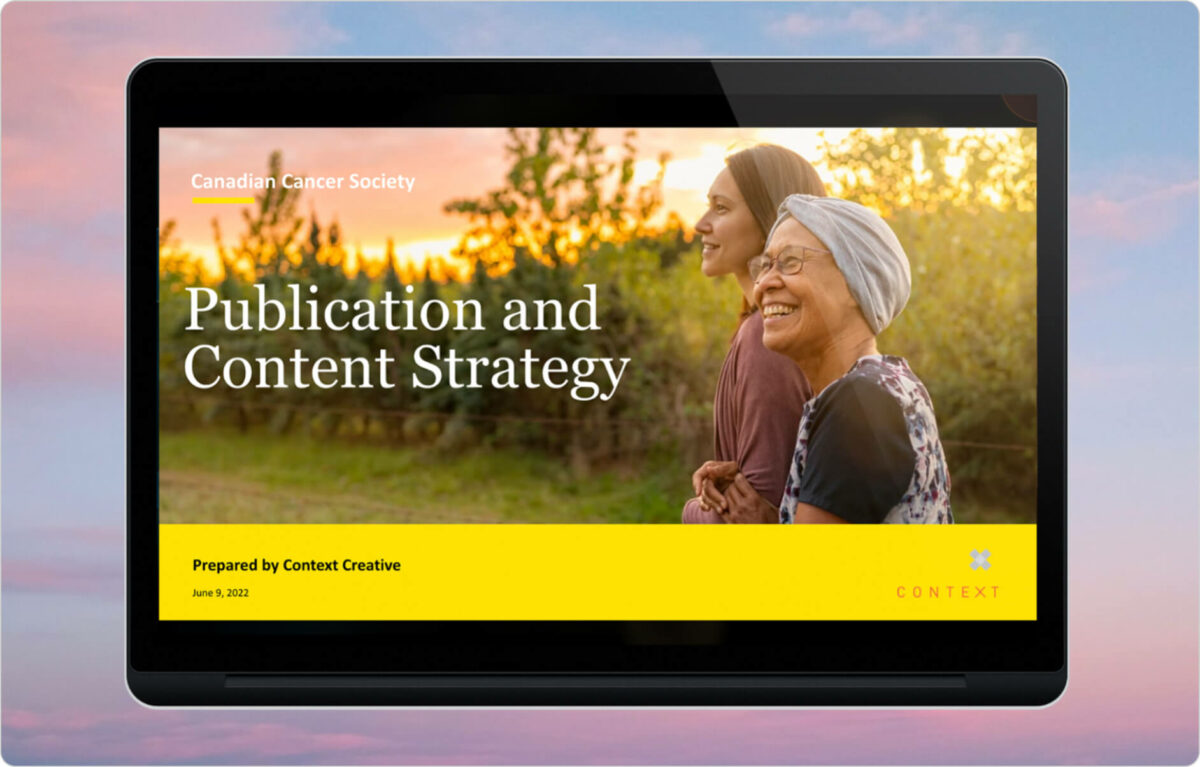 Challenge
How can we ensure that those who rely on or prefer printed cancer information aren't left behind in the digital shift? 
Solution
Foundational research, an in-depth environmental scan and consultation with a broad network of stakeholders including underserved communities.
Impact
A national publication and content strategy that outlines the impacts of shifting away from print. 
The context
The Canadian Cancer Society (CCS) is a trusted source of cancer-related information that's used by healthcare professionals, patients and the public. With the COVID-19 pandemic, the adoption of digital health tools, technologies and services was accelerated. For CCS, this raised important questions:
Who relies on print-based resources and to what extent?
What's the risk of reducing print material?
How are media preferences shifting?
What are the barriers impeding access to information, particularly for underserved populations?
How can CCS make it easier for health professionals to share cancer information with their clients?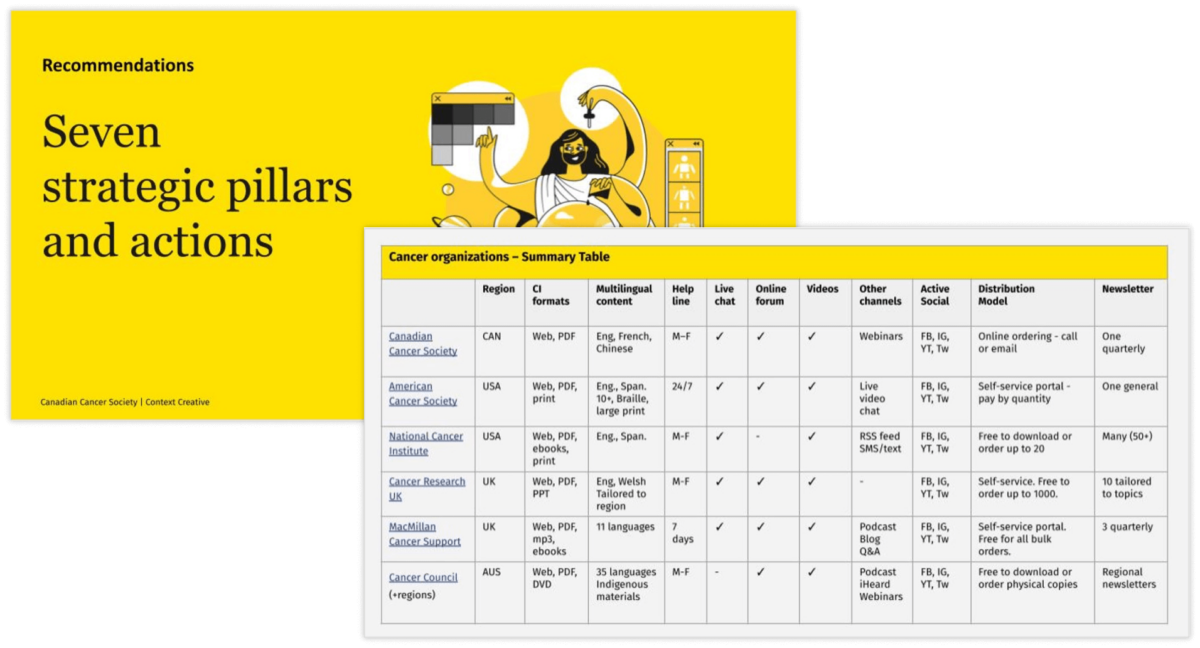 Capturing Canada's diversity
Canada's healthcare system is a complex landscape. Provinces and territories deliver their own healthcare services, with regional and local cancer agencies on the frontlines. Canada's many remote communities—many with poor connectivity—further complicate the ability to deliver healthcare, let alone provide resources. To better understand information needs, we used the following approach:
Foundational research: A review of sales reports, web analytics, relevant reports on health information provision and roadmaps outlining the unique needs of eight underserved populations.
Environmental scan: An in-depth competitive/comparative analysis of 40 cancer and health organizations to identify relevant trends, best practices, online platforms and innovative content strategies.
Consultation with stakeholders: Bilingual interviews and digital surveys with people with cancer, caregivers, healthcare professionals and others.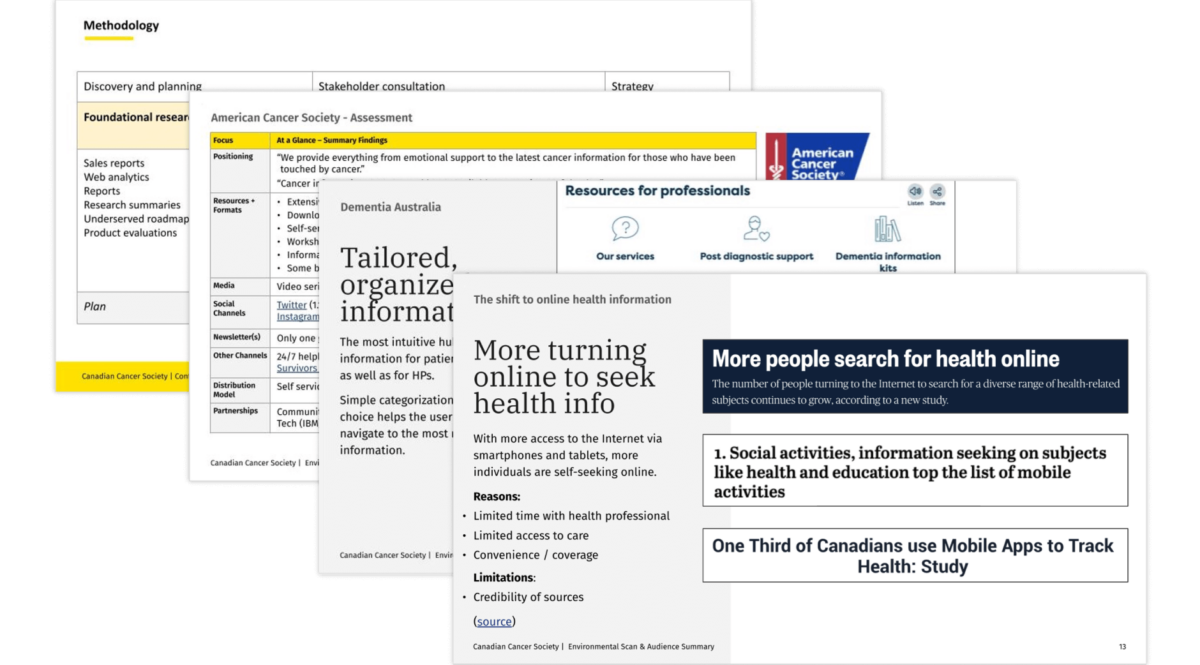 An action plan for a new era
Are printed materials still essential in the provision of cancer information? The short answer is yes.
Our data analysis uncovered clear themes and insights that we presented as seven strategic pillars, each containing a list of recommended actions and tactics. Our deliverables included a final report and presentation.
In collaborating with the CCS, we were able to shape a strategy providing a roadmap for the way content will be consumed and distributed in the years to come.
"Thanks to the Context team for all the great work that was done on our Publication Strategy project. The insights the team assessed and highlighted have provided CCS with a solid road map for both our current print program and future content opportunities to be explored. It's put us in an exciting position with which to move forward."
– Martha Keenan, Canadian Cancer Society