Going online for our frontline: Promoting paperless ebilling during a pandemic
In collaboration with Alectra Utilities Corporation
A community-oriented campaign helped Alectra support frontline workers while encouraging customers to shift to ebilling.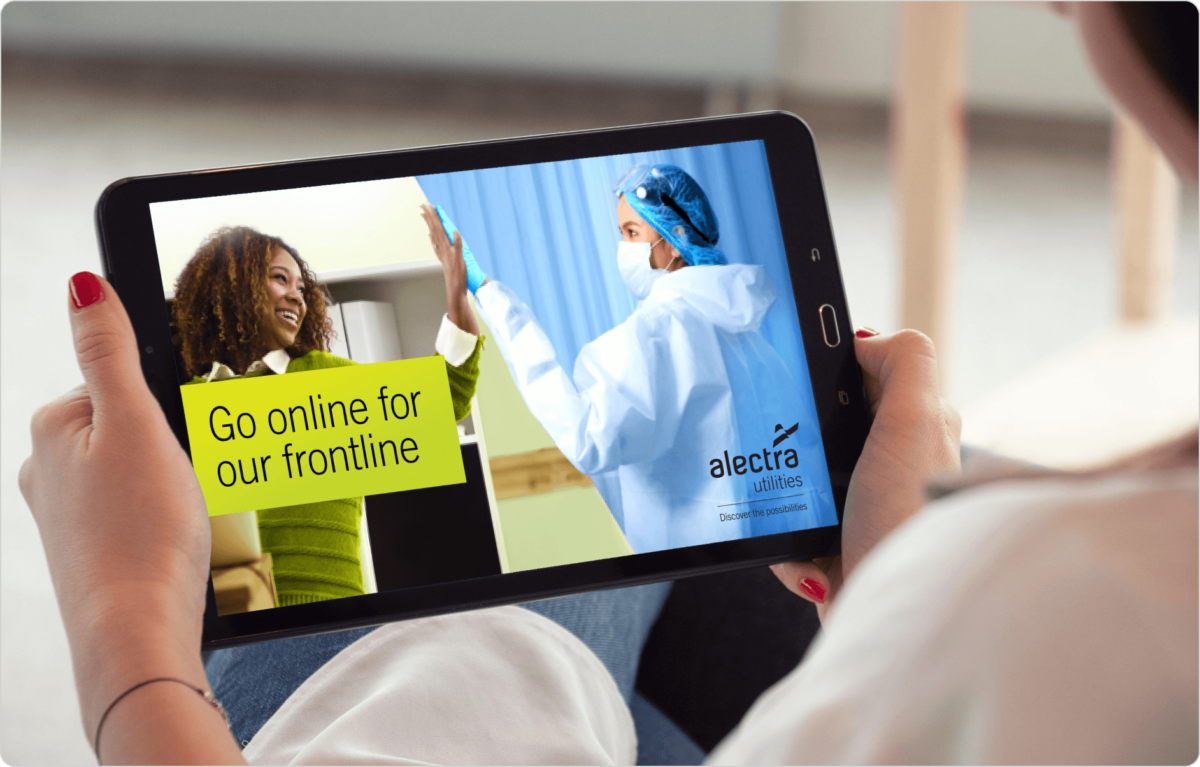 Challenge
During a year fraught with uncertainty and hardship, how could we help Alectra convert more customers while addressing the community challenges posed by the COVID-19 pandemic?
Solution
A campaign focused on contactless convenience and community, anchored with a timely and relevant donation to support Ontario's frontline workers.
Tactics
Targeted eblasts
Newsletters
Online ads 
Social media
Multilingual online ads
Web assets
Self-service account ads
Results
33,874 signups 
34,722,249 campaign impressions
477,000 emails with 51% open rate
$50,000 donated to Ontario's frontline healthcare workers
The context
Anyone who ordered groceries online or took a virtual fitness class for the first time in 2020 can appreciate how profoundly the COVID-19 pandemic shifted consumer behaviour. For utilities, it also accelerated the shift away from paper mail to ebilling.
Alectra Utilities has made consistent efforts to transition customers to paperless ebilling with the help of marketing campaigns. For customers, ebilling offers convenience, time savings, security, clutter reduction and environmental benefits. By reducing expenses associated with mailing bills (printing, postage, envelopes, return envelopes, handling and more), it also provides significant cost savings to Alectra and helps the company achieve ambitious sustainability goals.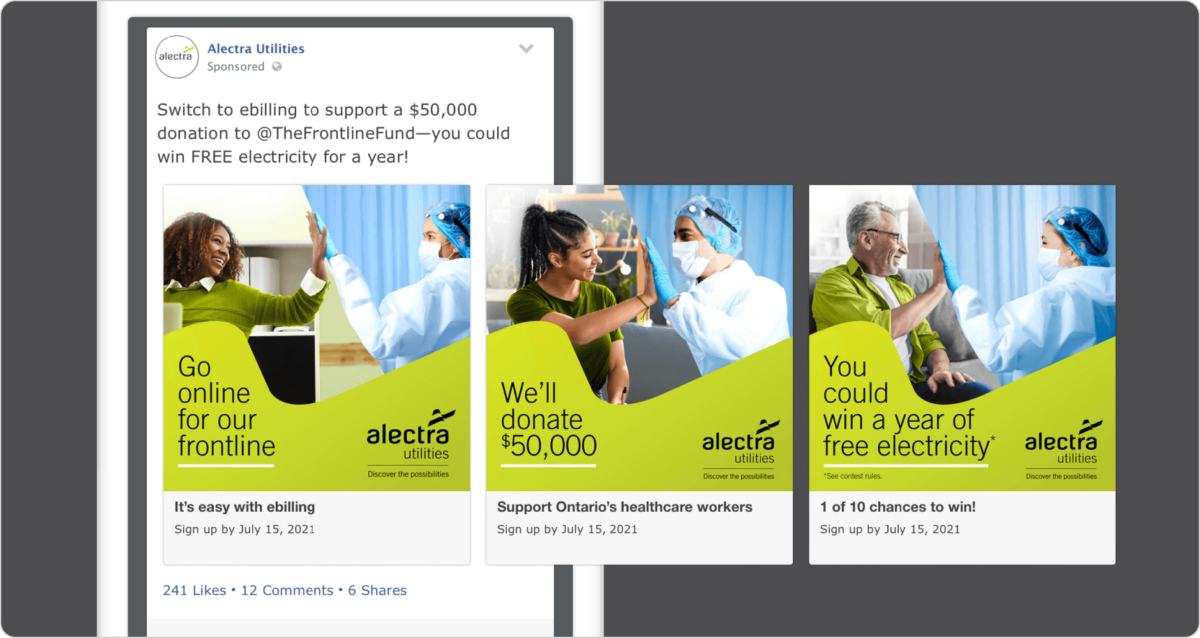 Adding impact to incentives
With 25% of customers registered for paperless ebilling, Alectra wanted to carry the momentum of its previous campaign to convert more customers. Typically, giveaways and cash prizes are effective incentives that help to convert large numbers of customers to ebilling. However, market research showed that in 2020, consumers had become more attuned to how brands demonstrate social responsibility and impact. In response to the fact that many customers were facing new financial hardship because of the pandemic, Alectra substituted the customary cash prize or gift seen in ebilling campaigns with a chance to win 'free electricity for a year': 10 prizes of a bill credit valued at $2,000. By offering bill relief, the campaign responded to the new social reality and offered a timely support for households.
We planned the new campaign based on these fresh insights on a changing consumer mindset. Adherence to corporate brand standards was key, but with adept insights into the use of colours, fonts and graphic motifs, distinctive assets for a full range of media channels were created.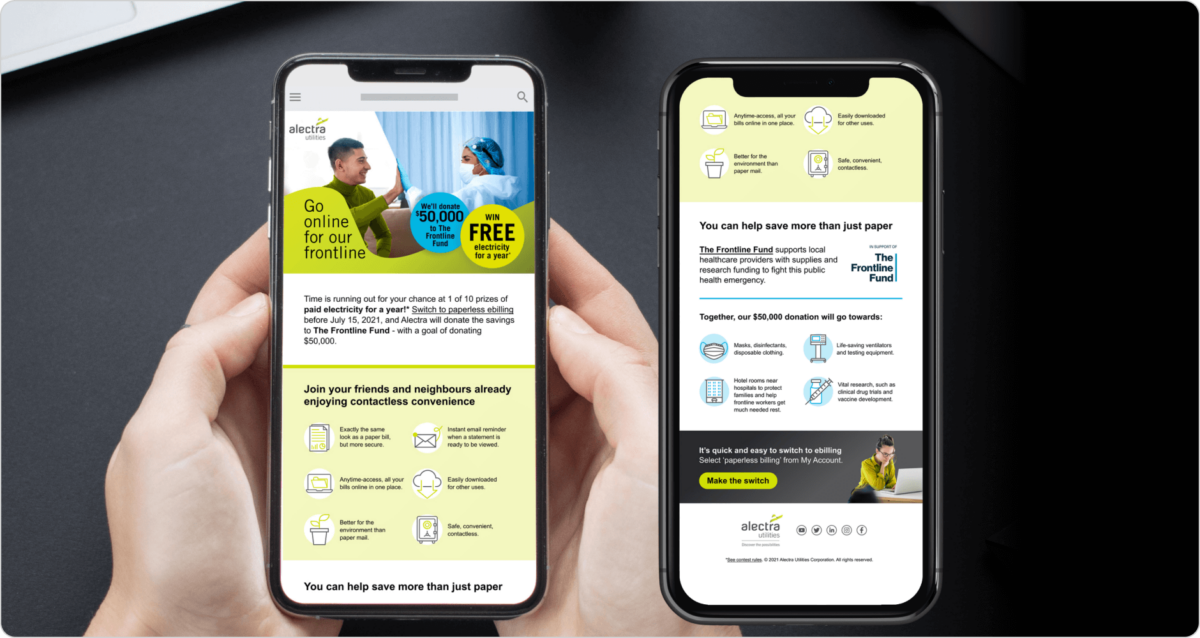 A community-oriented campaign
According to a global Edelman study, customers expect brands to help address community challenges posed by COVID-19. We also learned that four in five Canadians prefer donating to charities with local impact. Some of the social services most impacted by COVID-19 in Ontario included health services, food security, housing/homelessness and mental health programs.
We selected the Frontline Fund as our charity of choice, a consortium of regional hospital foundations that supports essential frontline health workers. The organization provides funding for medical supplies, research, mental health support and even hotel rooms near hospitals for healthcare workers to get much-needed rest.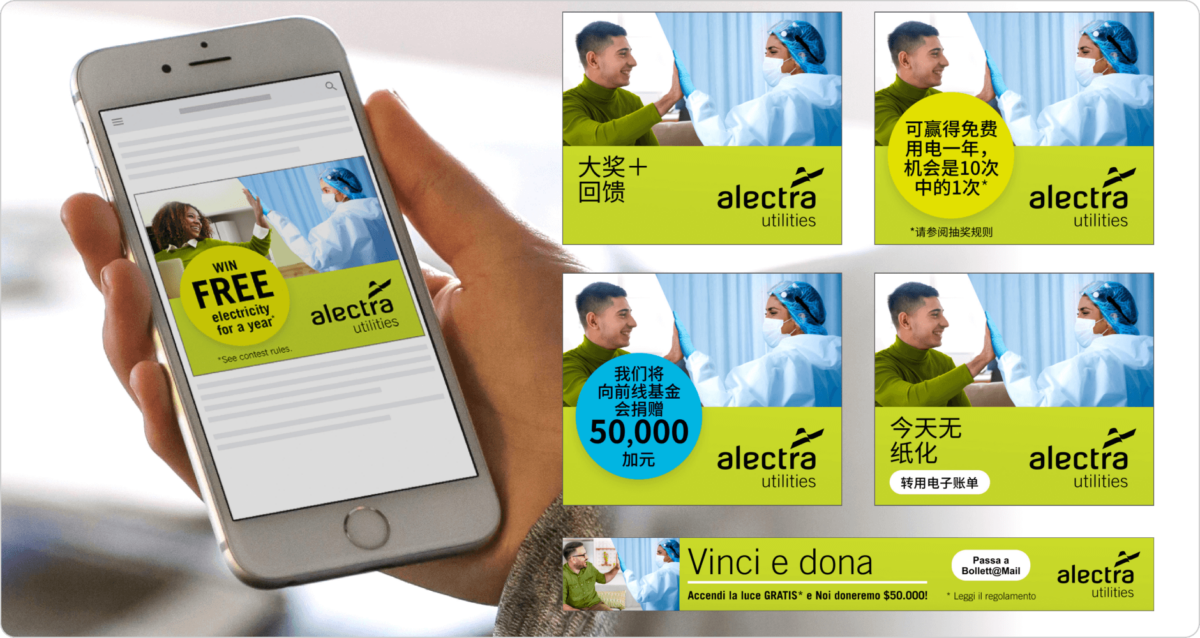 An innovative multi-channel solution
We positioned the campaign with a community-minded offer that celebrated the collective efforts of working together towards a common goal. By "going online for our frontline," every signup would help Alectra deliver on its $50,000 donation goal.
To ensure we reached customers via their preferred media, the campaign was rolled out in a wide variety of digital and traditional channels, including:
Targeted eblasts
Print/digital newsletters
Online ads (search, responsive, Gmail and standard display)
Social media, including goal progress posts
Multilingual online ads
Web assets (homepage banners, landing page)
Self-service account assets (banners)
With a high-value, community-focused and socially responsible campaign, we have been able to effectively influence customers to switch from paper bills to paperless ebilling.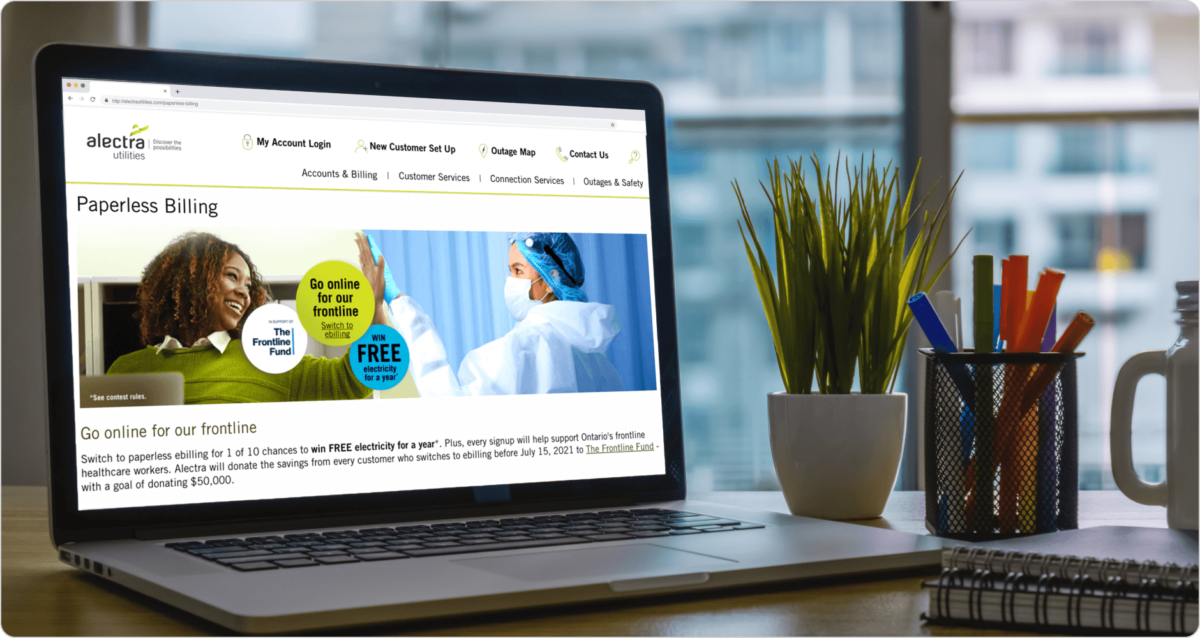 The goal of the campaign was to increase the paperless ebilling penetration rate to 28%—a target of about 30,000 signups. After 15 weeks in market, the campaign attracted a total of 33,874 signups—surpassing our signup target.
The campaign generated 34,722,249 total impressions. We deployed over 477,000 emails with a 51.5% open rate and 6.25% click through rate.
Having met our goal, Alectra donated $50,000 to Ontario's frontline healthcare workers—a win-win everyone can feel good about.